A visit from the Thomas Franks Foundatoin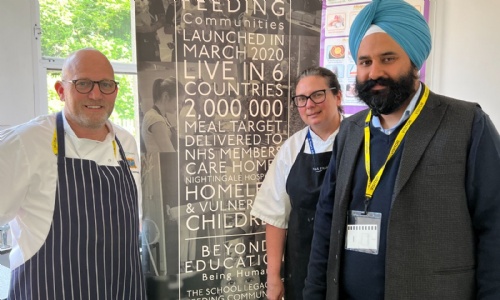 Feeding Communities with Thomas Franks
Visitors from the Thomas Franks Foundation were warmly welcomed to the school. The Head of Feeding Communities, Mr Dean Collins, and the Director of Charity, Mr Raj Singh, presented an assembly for Year 1 to Year 4 students, where they addressed the issue of food poverty and how surplus food can be repurposed into delicious meals and put back onto plates. Following the assembly, the Year 4 children joined forces with our Catering Manager, Ms Ann Dillinchev, and the Thomas Franks Foundation team to prepare and package 200 Tofu Noodle Stir Fry meals in the Food Tech kitchen. The St Piran's Year 4 children learnt new skills and were taught how to correctly portion and package meals. The meals they helped package will be donated to a local charity.
Established in 2019, the Thomas Franks Foundation was created to support disadvantaged children and young people. In response to the pandemic, the Foundation's constitution was changed to support and launch current projects that aim to help families, individuals, and communities facing hardship and disadvantage. The Foundation is proud to offer support and resources through initiatives as We Grow, You Grow, which teaches children the value of food and food production, Feet up Friday's program, which provides unpaid carers with support; and Feeding Communities, which began it all. With a clear mission to support communities across the UK and internationally, the Foundation eagerly reaches out to help in any way it can.
We were thrilled to collaborate with Feeding Communities to help the community and those facing food poverty. We look forward to future opportunities to work with the incredible team at the Thomas Franks Foundation and to support them in their mission of feeding local and international communities.