School History
St Piran's can trace its origins to 1805 when pupils, including Benjamin Disraeli, the future Prime Minister, received their early education at a small school in Blackheath, called Eliot Place.
The school moved to its present site in 1872 while Thomas Nunns was the Headmaster, to gain from the better air and the space to play sports. Plenty of space was essential for the sons of the gentry and aspiring gentry! Cordwalles School was born and remained a successful boys' boarding school for the next 47 years.
In 1919, Major Vernon Seymour Bryant became Headmaster. He was born in Truro, Cornwall and after being educated in Exeter and then Downing College, Cambridge, he became an assistant master at Wellington. He bought Cordwalles School for £7,700 and in the Year Book of 1920 it read, "Cordwalles is no more! Long live St. Piran's!" as Major Bryant bestowed on his school the name of the Patron Saint of Cornwall. His philosophy: "Boys will have the opportunity of becoming good craftsmen in workshops, libraries and field. Young boys can be set to work with machinery, heavy machinery, such as will excite the imagination and create the scientific sense."
23 boys started in 1920 at St. Piran's and by 1921 there were 65 on the books paying 50 guineas each per term. In 1972 the school became an educational trust with a Board of Governors and about 180 boys. Many additions were made to the building in the seventies including an outdoor swimming pool, an assembly hall, a new gymnasium, a library and a science laboratory.
In 1993, the school became fully co-educational, accepting boys and girls from ages three to thirteen. Boarding came to an end at St. Piran's after 188 years and the school adapted to the demands of the local market, becoming a local school meeting local needs. Further developments under Andrew Blumer included the building of the St. Piran's Centre, providing outstanding swimming, dance and sports facilities for the pupils.
The school continued to grow under Jonathan Carroll's headship from 2001-2019 with, amongst other things, a new Reception building, the development of our all-weather pitch and the end of schooling to age 13.
St Piran's, now with Sebastian Sales at the helm, remains a highly successful and respected Independent Preparatory School. Pupil numbers are higher than ever, with over 400 children attending the school. We would hope that the Reverend John Potticary would approve of what his small school from Blackheath has become, two hundred years on.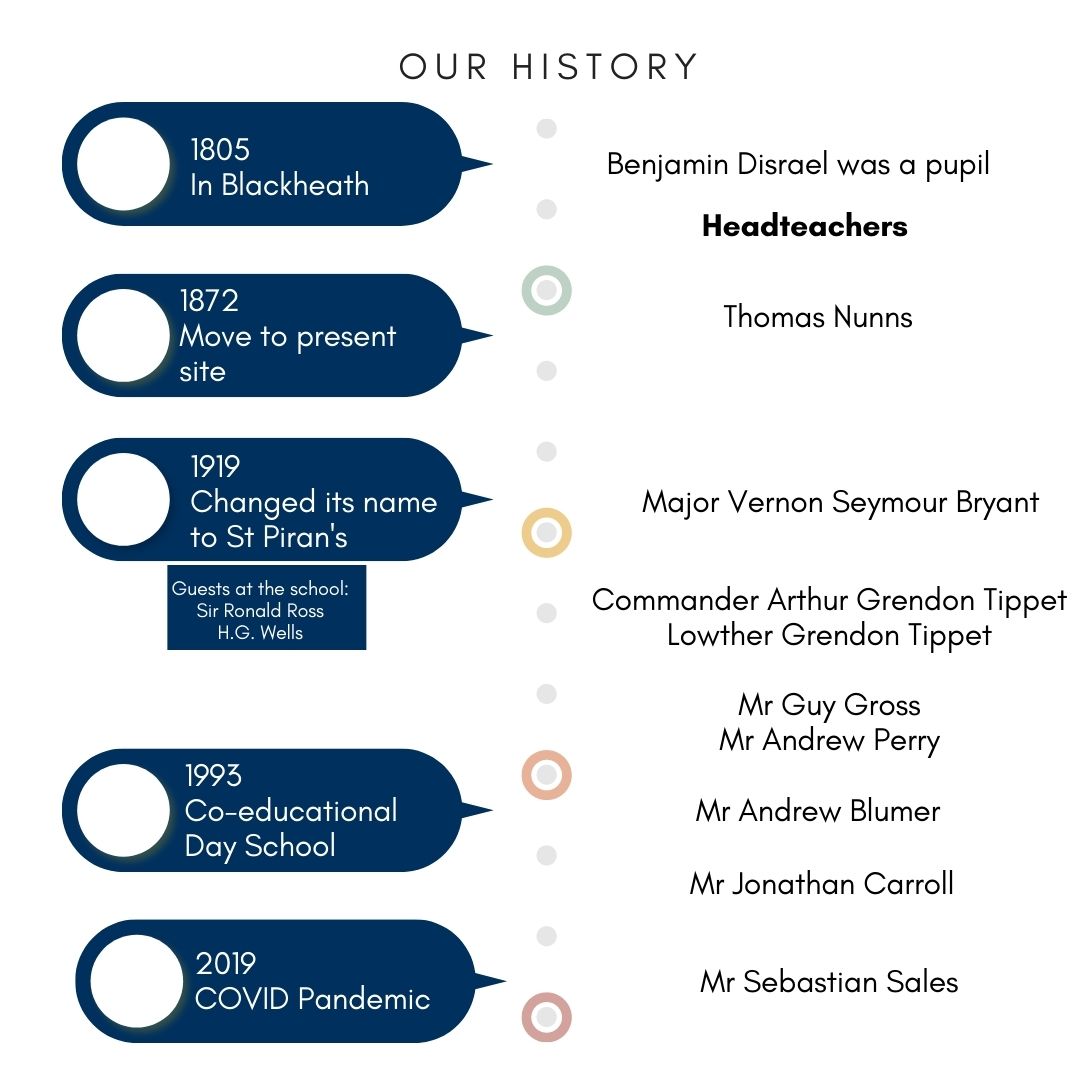 St Piran - The School's Namesake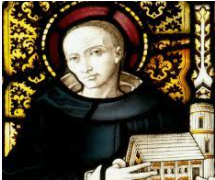 St Piran was born in Ireland. After studying the scriptures in Rome he returned and was made a Bishop. In Ireland, he was said to have performed many miracles, such as raising from the dead soldiers slain in battle. But the Kings of Ireland at the time were not impressed. It is reported that in the 5th Century, St Piran was flung into the sea in Ireland. He had a millstone around his neck, but miraculously he floated across the water to Perran Beach in Perranporth.
It was here that he built a small chapel. St Piran built his oratory amongst the sand dunes. People would come from miles around to hear him preach there.
St Piran discovered tin too, but quite by accident. A black stone on his fire leaked a white liquid. St Piran had discovered tin.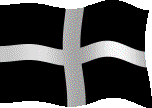 The Cornish Flag, the Flag Of St Piran (white cross on a black background) represents white tin flowing from the black rock, or good overcoming evil. St Piran is the Patron Saint of Tin Miners.
St Piran is believed to have lived for 200 years. He was fond of a drink and met his end falling down a well. No date of his death was recorded.
St Piran is one of three Patron Saints Of Cornwall. The other two are St Michael and St Petroc. Michael is associated with St Michael's Mount and St Petroc with Padstow.
Cornwall's St Michael has his own feast day celebrated on May 8th, and St Petroc has 4th June.
St Piran's Day is on March 5th each year and the main celebrations are in Perranporth. The school celebrates with the Millstone Race and everyone dresses in black and white. The Headteacher has a millstone in his office and the garden near the Lower Hall is named the Millstone.